I have received this question from a visitor of the portal Moldova Creștină. The lack of reciprocity in love is a problem that worries many young men and women. It brings muh desperation, pain, depression and sometimes the thought of suicidal. It is good to know what to do and how to touch such kind of situations, so that you may not come across them and be ready to give an answer and to show a correct behaviour. Let us firstly see…
What does irreciprocal love or passion mean?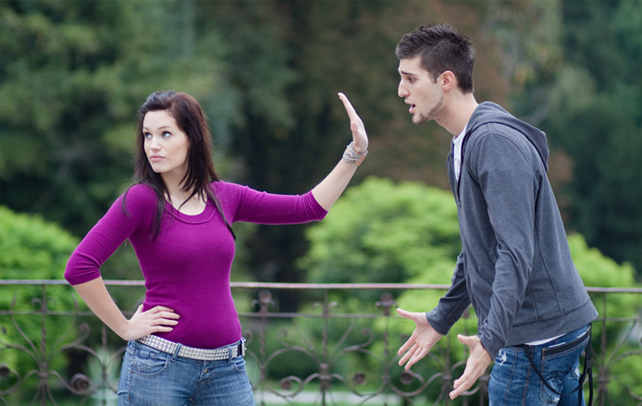 When a guy or a man is in love with a girl or a woman, who he wants to propose marriage to, and that girl or woman says that she doesn't have the same feelings, then that guy or man can say that this is irreciprocal love. When a girl or an unmarried woman is in love with a man and at the end, that man doesn't do any actions, doesn't take any initiative to propose marriage to her, then that girl or woman will call this irreciprocal love. There are other cases, when people that are already married and they feel that their partner doesn't share the same love and doesn't offer the same affection as he used to. How to behave in the situations described above? This will be the subject of today's article.
Do not awaken love until she pleases
This is one of the key phrase from the book of Song of Songs from the Bible, that shows up the love between a man and a woman with the most wonderful words. Sulamita, the heroine of the book is in love with the king Solomon, and she advises her friends and she repeats this phrase for many times:
I adjure you, O daughters of Jerusalem, by the gazelles or by the hinds of the field, that you do not arouse or awaken my love until she pleases. (Song of Songs 2:7; 3:5; 8:4).
What does it mean to awaken love until she pleases? That means to start looking for a boy or a girl whom to be in love with. This search begins to produce many negative emotions and disappointment and you cannot concentrate on your activities and resposabilities. The worst is that you will experience this lack of reciprocity for many times. Wise people, men and women, understand when one is in love for the sake of being in love and not beacause they have found something really precious in the eyes of that person. It is OK to find lack of reciprocity in such kind of situation. God planned for each of us the time to meet the person He will give us love for, so that we may enter the covenant of marriage. Are not these search to be in love with someone, "a trial to help God"? And all these search have always ended up in a bad way, bringing up many disappointments. In other words, you have to keep you heart if you don't want to experience the lack of reciprocity in love and don't try to be in love with someone of opposite sex, don't awaken the love until she pleases. Apostle Paul wrote the following, concerning this subject:
 Are you bound to a wife? Do not seek to be released. Are you released from a wife? Do not seek a wife. (1 Corinthians 7:27)(NASB)
You don't have to look for your partner of life for yourself, because God is the One who will bring him/her to you or He will  bring you to him/her and him will put reciprocal love into the hearts of each of you. This happened to the first man and the first woman from this world, and this will always be so. Adam wasn't even aware of what he needed. But God knew his need very well, and he fulfilled it, creating the woman and bringing her to him, as the Scriptures say:
The LORD God fashioned into a woman the rib which He had taken from the man, and brought her to the man. The man said, "This is now bone of my bones, and flesh of my flesh; she shall be called Woman, because she was taken out of Man. (Genesis 2:22–23)(NASB)
The phrase "This is now!" shows the joy and fulfilment the man had when God brought him the woman, who was to become his wife. Today is the same. God is the One who brings the woman to a man and then He places reciprocal love into the hearts of both of them. He also repeats this truth in the book of Proverbs of SOlomon, whan He says:
House and wealth are an inheritance from fathers, but a prudent wife is from the LORD. (Proverbs of Solomon 19:14)(NASB)
Don't accept to go on dates
I have previously written an article about the detriment of going on dates for the young people, that start practising them on a plea of getting to know one another and to develop a relation. I would like to add here that for many times young people think that going on dates, spending time together, in this way the same feeling will grow up in the heart of the girl or of the guy. But most often this doesn't happen and they remain very upset and desperate because of the lack of reciprocity in love. That's why, it is not good to go on dates. If you are a guy and God put love in your heart for a girl, in the day when you have the whole freedom and assurance that you want her to be your wife, go to propose marriage to her. If you are a girl, don't accept more than an invitation on a date and if you were not proposed marriage, don't accept the second one. Why would you let your heart filled with feelings that will not be shared and that will bring you pain?
Wait for the marriage partner God has prepared for you
If you proposed marriage to a girl and you were rejected, I know that you don't feel well, because you experience what irreciprocal love means. If you had been waiting to be proposed marriage and this didn't happen, I understand that you have the same awful feelings. But, God says in the Holy Scriptures:
And we know that God causes all things to work together for good to those who love God, to those who are called according to His purpose. (Romans 8:28)(NASB)
Accept, believe and put all your hope in these words of God, because:
Every word of God is tested; He is a shield to those who take refuge in Him. (Proverbs of Solomon 30:5)(NASB)
Marry only the person that shares the same love with you
This statement may seem strange to someone, because it goes without saying. That should be so, but there are very many marriages that are arranged by parents, where other purposes are established, than that of creating a blessed family. I saw this thing happening for many times. One married a girl whose parents bequeathed an apartment to her. After marriage, he treated her very abusively, then he convinced her to sell the apartment, so that finally he took the money and left. When they had still been together, he hadn't been coming home at nights and she, being very depressed, had been looking for him on the streets of the city. I also know more young people from my native village, that were married by their parents, who were rather looking to the "coupling of the wealth" than to their own children's happiness. Those marriages haven't lasted, because there was no reciprocal love between the husband and wife. That's why, if you are not sure that the person who proposes marriage to you, or that you want to propose marriage to, doesn't share the same love with you, you wouldn't better do this step, because it will not bring joy to anyone.
But what to do if you are already married and your husband/wife doesn't share the same love?
Follow up the example of God, as it is written in the Holy Scriptures:
But God demonstrates His own love toward us, in that while we were yet sinners, Christ died for us. (Epistle of Paul to Romans 5:8)(NASB)
The love of a Christian doesn't come and it is not supplied from the love of the marriage partner. Christian's love comes from God.
…because the love of God has been poured out within our hearts through the Holy Spirit who was given to us. (Epistle to Romans 5:5)(NASB)
That's why, continue to show the love you have received from God, even if the partner is cold in relations and lacks the passion and the affection you need. Don't forget that the fulfilment of emotional needs of the husband/wife is a condition of the covenant, showing a love similar to God's.
A last question for you…
Here is what the Bible says how greatly God's love for us was manifested:
For God so loved the world, that He gave His only begotten Son, that whoever believes in Him shall not perish, but have eternal life. (The Gospel of John 3:16)(NASB)
Have you answered Him with a reciprocal love? No, you don't need to sacrifice one of your chidren. Here is what He says that it is a reciprocal love from you:
He who has My commandments and keeps them is the one who loves Me; and he who loves Me will be loved by My Father, and I will love him and will disclose Myself to him. (The Gospel of John 14:21)(NASB)
How much do you think, study and keep the Lord Jesus' commandments, as it is written on the pages of the Holy Scriptures?
Translated by Djugostran Felicia