Question:
Who are the twenty-four elders from the book of Revelation, chapters 4,5,7,11;… why is the number 24 mentioned and found only in this book? Thank you in advance. May the grace and peace of the Lord be multiplied to you!!!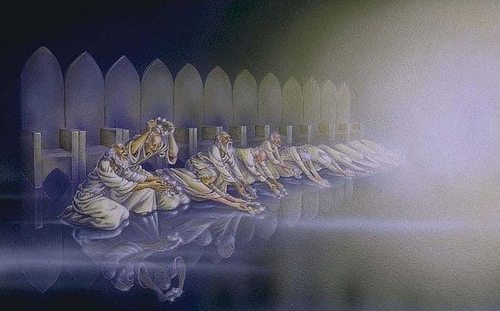 The twenty-four elders are in Heaven, before the throne of God and are sitting upon thrones:
Around the throne were twenty-four thrones; and upon the thrones I saw twenty-four elders sitting, clothed in white garments, and golden crowns on their heads.
(Revelation 4:4)

 And the twenty-four elders, who sit on their thrones before God…
(Revelation 11:16a)
The book of Revelation does not tell us distinctly who these 24 elders are, but in chapter 21 we learn about the 12 tribes of Israel (the names of the patriarchs) and the twelve apostles:
It had a great and high wall, with twelve gates, and at the gates twelve angels; and names were written on them, which are the names of the twelve tribes of the sons of Israel. There were three gates on the east and three gates on the north and three gates on the south and three gates on the west. And the wall of the city had twelve foundation stones, and on them were the twelve names of the twelve apostles of the Lamb.
(Revelation 21:12-14)
In the Gospel of Matthew, we find the confirmation that twelve of them are the twelve apostles. When Jesus was on earth, He told His disciples that when He would sit on the throne of His glory, at the renewal of all things, they will sit upon twelve thrones:
 And Jesus said to them, "Truly I say to you, that you who have followed Me, in the regeneration when the Son of Man will sit on His glorious throne, you also shall sit upon twelve thrones, judging the twelve tribes of Israel.
(Matthew 19:28)
Therefore, we know for sure that twelve of the twenty-four elders are the twelve apostles of the Lord Jesus, and we can assume that the other twelve are the twelve patriarchs of Israel.
Translated by Marcela Tasca
Read this article in Romanian and Russian.