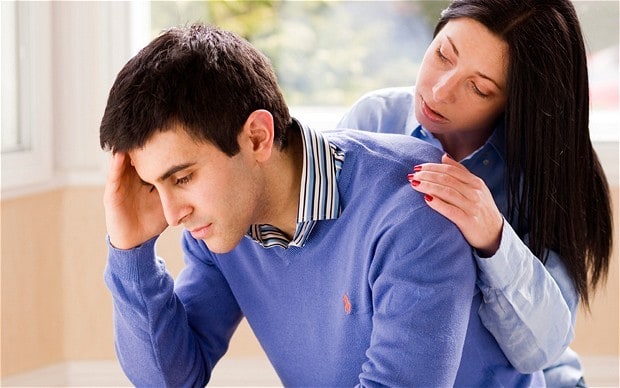 This is one of the most frequent searches made on this portal by visitors. I have written earlier an article with 10 reasons why the husband avoids sexual relations with his wife. The fact that this question is a frequent asked one on this portal means that there are many women who are confronted with the fact that their spouses avoid the sexual relationship and they want to know how to properly act in this situation. So, what to do when the husband no longer wants to make love to you?
1.Identify the cause of the

avoidance

You can not solve a problem, until you identify the real cause of it. No doctor will prescribe you a good treatment until he identifies the disease and its true causes. Therefore, pray, observe, discuss and try to understand the causes of avoidance of your husband from his conjugal duty. Read the article again Why does the husband avoid the sexual relationship with his wife? (10 reasons) and see which of those reasons you think is applicable to your situation and if you, as a wife, have caused some of them.
2. Do not

 delay

Some people have such a life philosophy and say that time will solve all things and that all problems are solved by themselves. It is not true. Do not believe it. Problems are not solved by themselves, but they get worse. The longer time passes, the problem may increase and you can wake up one day that you got too far into your problems that will seriously affect your marriage.
3.Do not

criticize

Some wives think that if they make some criticism of the sexual initiatives of the husbands, they will provoke them in this way. No way. This will only make worse and the husband, if he has fears about his male power, he will think worse about himself. Do not do so and do not criticize, do not make jokes that would show that you doubt his male power. The Word of God says:
Pleasant words are a honeycomb, sweet to the soul and healing to the bones.(Proverbs of Solomon 16:24)(NASB)
4.

Initiate a discussion with your husband

Only in a discussion you can find out how he sees the problem and what are the causes from his point of view. But be very careful to lead this discussion wisely, with appreciation and without criticism. Tell him friendly words. Tell him what is his value in your eyes and how much means the relationship you have with him, with or without the physical union.
5.Listen to what the h

usband says

Do not hurry to complain or condemn, or appear as the victim, but listen carefully to what your husband will tell you. Only so you will be able to understand the real problems that have occurred.
6.Do not hurry to draw

conclusions

You might hear something that will scare you, such things as a disease which has occurred in the body of your spouse, etc. Do not hurry to make premature conclusions and scare.
7.Tell him 

about your need

Do not be of those women who think that if they do not talk with their husband about the need they have for the physical relationship, they will look very spiritual in the eyes of their husband. Tell him how much the physical relationship with him means to you. By this very fact, the husband will feel appreciated as a man, because he is desired by you.
8.Be

ready to go to the doctor

If there has been a health problem in the body of the husband and that's why he faces this passivity in the physical relationship, he will need to go to a doctor. But maybe you will need to go together. So, be ready to go to the doctor and to talk in a wise way.
9.Be

ready to go to the priest together

The sexual relationship between husband and wife is widely and deeply touched by God on the pages of the Holy Scriptures, and there the answers are true. It is sad to see how people go to church every Sunday to listen to sermons and pray, and when they have such problems they primarily go to the doctor. Certainly there are good specialists who treat people, but the sad fact is that many so-called doctors suggests both men and women that come with marriage problems, to initiate a relationship outside marriage. Many couples that I have advised confessed me that they had received such "prescription" from the so-called doctors, who tell them that only so they will restore their desire and ability to maintain a sexual relationship with the husband or wife. Therefore, go to the priest and ask for help. God bless you with the priests who will teach you and give you effective solutions from the Word of God. Priests, however, must not exceed their limits and not assume the role that doctors have. Let me explain what I mean. A man came to me a man and told me that he experienced particular problems in their physical relationship. I realized that it is more likely a health problem and I advised him to go to an urologist, whom I knew as a very good specialist. Not long after that, I met that man again and he told me that he had had a health problem indeed, that the doctor had prescribed him a treatment and that then they no longer had any problems in their conjugal relationship. So, I advise you to go to the priest before you go to the doctor.
10.Be

ready to  have patience

The solving of the problem could need more time. Therefore, arm yourself with patience, as the Holy Scripture says:
Consider it all joy, my brethren, when you encounter various trials, knowing that the testing of your faith produces endurance. And let endurance have its perfect result, so that you may be perfect and complete, lacking in nothing. (James 1:2-4)(NASB)
It can happen a most difficult situation, when your marriage partner can not have sexual relationship until the end of life. Look at God and seek to find your joy and fulfillment in fellowship with him and in fellowship with your marriage partner even if you can not have any sexual relationship.
Translated by Felicia Djugostran