From the moment we became the disciples of Jesus Christ, along with salvation and eternal life, we also received the great call to be the Savior's representatives and ambassadors on this earth. In the New Testament he writes the following:

Therefore, we are ambassadors for Christ, as though God were making an appeal through us; we beg you on behalf of Christ, be reconciled to God.  He made Him who knew no sin to be sin on our behalf, so that we might become the righteousness of God in Him." (2 Corinthians 5:17-20 NASB).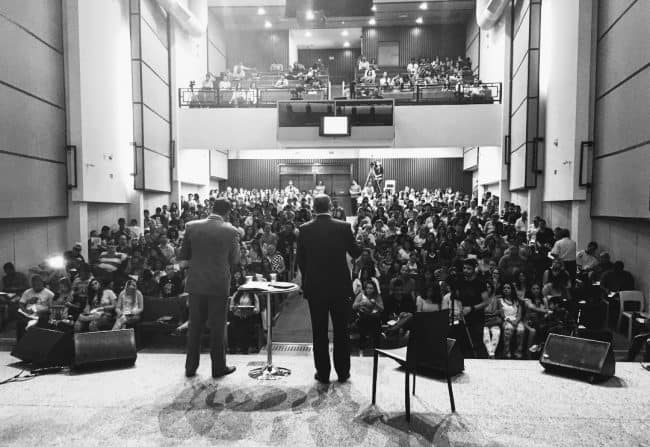 The Holy Spirit gives us power to speak in public

"but you will receive power when the Holy Spirit has come upon you; and you shall be My witnesses both in Jerusalem, and in all Judea and Samaria, and even to the remotest part of the earth."(Acts 1:8 NASB)
The testimony of the Lord Jesus Christ involves public speaking. Almost none of the 12 apostles were general public speakers until they met Jesus Christ and became His disciples. Before His ascension, the Lord entrusted to them the message of the gospel, to lead a large number of people, and the Holy Spirit they received would give them the power and ability to bear this testimony.
A disciple of Jesus Christ who understands the responsibility he has received will seek every opportunity to tell the gospel to people in private and in public, and he who does not understand this responsibility will shy away when given the opportunity to speak in public. Avoiding public speaking will be nothing but fleeing from responsibility.
How to speak in public if you are shy?



"Be anxious for nothing, but in everything by prayer and supplication with thanksgiving let your requests be made known to God. And the peace of God, which surpasses all [a]comprehension, will guard your hearts and your minds in Christ Jesus." (Philippians 4:6-7 NASB)
This promise and command also applies to cases when I am afraid to speak in public. I must overcome it and, through prayer, put all my hope in God, that I may have peace and be able to face the situation, by giving a testimony worthy of my Savior. If you ask other speakers, preachers, teachers, I think everyone will tell you that they are afraid and nervous to speak in public, but they overcome this fear and you must learn to overcome it.

What if I completely lose my thoughts and words?

I understand what you're saying, because it happened to me. If you know you are dealing with this, then prepare your message in writing, if you know in advance that you will have to speak to a large audience. Writing the message word for word will make you understand it well, be well organized in your mind and if you have emotions, just read it. It will be very good to read it once before going out in front of the public, but better to read it a few times and read it aloud.
But what should I do if I get unexpectedly invited to speak?

Let's say you are in a church and suddenly you have been given the opportunity to speak, without having prepared yourself beforehand. How to act? Pray, organize your thoughts quickly and speak. If you have a sheet of paper or a notebook at your fingertips, make a simple sketch and follow that sketch. Many times I just used a napkin so I could quickly make that sketch and talk. If you do not have anything handy, no pen or sheet, then make this sketch in your mind and let it be short, of three or maximum 5 points, because any more you will not be able to follow. Don't talk about anything else, but just say exactly what is important for the audience to hear, even if they are not aware of the need for that message to be heard. The Apostle Peter was taken by surprise on the day of Pentecost, for such a large crowd was not expected to come around the house where they were gathered. However, he went out and explained to the crowd what happened to them, and from that explanation, he went on to present the Gospel of Jesus Christ. As a result, a large number of people repented that day and chose to become disciples of Jesus Christ, receiving the holy baptism as well.
When you are invited to an event, be ready to speak in public
If you are going to a birthday or a wedding or any event where you think you might be asked to speak in public, get ready early so you'll know what you are going to say. When Paul was invited to present his teaching in the Areopagus in Athens, it was evident that he was already prepared, for his message was very well organized and he was already ready to read from Greek poets. The structure and good organization of the message makes me think that for many days he had been preparing and waiting for the invitation to speak in the Areopagus and, when he was offered the opportunity, he took advantage of it. And what if most people disregarded his teaching at the moment? Still, he won the first souls in that city and they were Damaris, Dionysius the Areopagite and a few others. Be careful and always ready to talk, and do not despise the invitation that was given to you once.
Don't talk about anything else. Do not talk for long, but be sure that you will convey the message about Jesus Christ in a clear way to all who will be present. It is a lack of ethics and common sense to refuse the invitation to speak in public. By doing this you will show contempt for the person who invites you in front and for all the others who are gathered.
Only through public speaking and systematic preparation will you gain experience. Don't forget that you speak not for yourself, but for the people who listen to you, and you want each one of them to be saved and to have eternal life.
Translated by Nicoleta Vicliuc