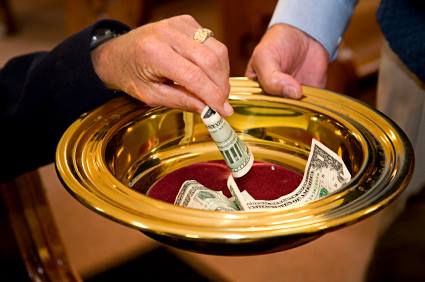 This question was placed in a comment on the page where the readers can donate so we can place billboards with biblical message in Chisinau. I do not know the intentions of which the question has been asked, but it obviously requires a response that I want to give in this article.
God lacks nothing
The sacrifices involving expenditures and material resources have always been part of worship to God and He established so. But, at a certain time the people of Israel believed that God did not have what to eat and that was why He needed the sacrifices. Furthermore, they had come to believe that if they gave God material sacrifices, they would have all blessings from Him and it did not longer count how they lived. What deceit… That's why God had to come to them with this message:
Hear, O My people, and I will speak; O Israel, I will testify against you; I am God, your God. I do not reprove you for your sacrifices, and your burnt offerings are continually before Me. I shall take no young bull out of your house nor male goats out of your folds. For every beast of the forest is Mine, the cattle on a thousand hills. I know every bird of the mountains, and everything that moves in the field is Mine. If I were hungry I would not tell you, for the world is Mine, and all it contains. Shall I eat the flesh of bulls or drink the blood of male goats? Offer to God a sacrifice of thanksgiving and pay your vows to the Most High. (Psalm 50:7-14)(NASB)
All things we have from God
In the Epistle to Romans, Apostle Paul writes:
Or WHO HAS FIRST GIVEN TO HIM THAT IT MIGHT BE PAID BACK TO HIM AGAIN? For from Him and through Him and to Him are all things To Him be the glory forever. Amen. (Romans 11:35-36)(NASB)
Last week I bought a kilo of cherries from a woman in the street and I had to pay 11 lei. I gave her o banknote of 10 lei and because I did not have one more leu, I asked her whether she agrees to receive coins of the remaining money. She agreed and said: "Yes, you can give me and I will put the coins on the plate at church." Then I asked the woman if that is how God gave her the things, by throwing coins on the plate? The woman answered nothing, but she and her neighbor who was selling near her remained very thoughtful.
God wants us be grateful
When He gave commandments on how to celebrate the Feast of Unleavened Bread, God told the people of Israel:
You shall observe the Feast of Unleavened Bread; for seven days you are to eat unleavened bread, as I commanded you, at the appointed time in the month Abib, for in it you came out of Egypt. And none shall appear before Me empty-handed. (Exodus 23:15)(NASB)
Don't you have any reasons to come up with gratitude before God? Don't you have even the gratitude of the woman who said she would place on the plate the coins gained from the sale of cherries?
Invest for the salvation of others
God teaches us to think of our neighbor and each born-again Christian is well aware of the greatest need of other people to believe in Jesus Christ to be saved. Therefore, we are happy to invest money, effort and our resources to bring God's Word to people. Do the same if you care for your neighbor and his supreme good – the salvation of the soul from eternal death.
Translated by Felicia Rotaru