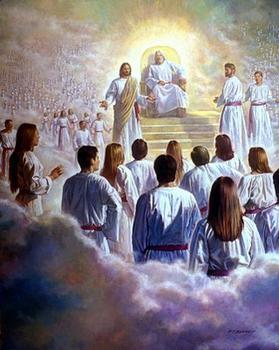 Question:
What does the Bible say regarding life after death? What happens with the soul and with the body of the one who passed away after this event? What happens with the body and soul until, and especially after the final judgment?
This is a complex question, so I have decided to divide it into three that are less, so we will see what is the destiny of Christians, then, of those who heard the Gospel but didn't believe it. I have written before an article entitled What is the destiny of good people who did not believe in God?
Going home to Christ
When he was imprisoned and didn't know for sure if he went out alive, Apostle Paul wrote to the Christians from Philippi so:
But I am hard-pressed from both directions, having the desire to depart and be with Christ, for that is very much better; yet to remain on in the flesh is more necessary for your sake. (Philippians 1:23–24)(NASB)
In the second Epistle to Corinthians, Apostle Paul developed more details concerning this subject, when he compared our earthly body with a tent, and he wrote:
For we know that if the earthly tent which is our house is torn down, we have a building from God, a house not made with hands, eternal in the heavens. For indeed in this house we groan, longing to be clothed with our dwelling from heaven, inasmuch as we, having put it on, will not be found naked. For indeed while we are in this tent, we groan, being burdened, because we do not want to be unclothed but to be clothed, so that what is mortal will be swallowed up by life. Now He who prepared us for this very purpose is God, who gave to us the Spirit as a pledge. Therefore, being always of good courage, and knowing that while we are at home in the body we are absent from the Lord– for we walk by faith, not by sight– we are of good courage, I say, and prefer rather to be absent from the body and to be at home with the Lord. (2 Corinthians 5:1–8)(NASB)
According to the above passages, at his death, the soul of a Christian leaves this body to go home to the Lord Jesus Christ, where will be…
The judgment of Christ
Immediately after this passage, in the same second epistle to Corinthians, Apostle Paul writes:
For we must all appear before the judgment seat of Christ, so that each one may be recompensed for his deeds in the body, according to what he has done, whether good or bad. (2 Corinthians 5:10)(NASB)
This is the judgment for all Christians and it doesn't refer to our deeds and living before we entered the covenant with the Lord Jesus. We have been forgiven for all these sins, when we believed in Him and became children of God. At the Judgment of Christ we will be judged for the good or for the evil we have done while being Christians, born again. And we will receive our reward depending on this good or evil we have done. That's why, it is important to think well how we act in all our actions. Some of hem, may seem good, but only a personal study in the light of the Holy Scripture can assure us a correct living. God help us in this.
Rapture and Resurrection
These two events will happen at the same time and are very well described in the first Epistle of Paul to Thessalonians, where it is written:
But we do not want you to be uninformed, brethren, about those who are asleep, so that you will not grieve as do the rest who have no hope. For if we believe that Jesus died and rose again, even so God will bring with Him those who have fallen asleep in Jesus. For this we say to you by the word of the Lord, that we who are alive and remain until the coming of the Lord, will not precede those who have fallen asleep. For the Lord Himself will descend from heaven with a shout, with the voice of the archangel and with the trumpet of God, and the dead in Christ will rise first. Then we who are alive and remain will be caught up together with them in the clouds to meet the Lord in the air, and so we shall always be with the Lord. (1 Thessalonians 4:13–17)(NASB)
All Christians who are asleep, that means they passed away before the coming of the Lord Jesus, then, at His coming, they will rise with spiritual bodies and they will meet the Lord in the air, so they will always be with Him. Those who will be alive at that time, will be dressed up with the spiritual body over the earthly one and then they will be caught up to be with the Lord Jesus always.
At the last judgment
Christians were forgiven from all their sins when they believed in the Lord Jesus and entered the covenant with Him. That's why, they will not be judged at that great last judgment, that is described in the book of Revelation. But they will be there to judge the world and the angels, as the first Epistle of Paul to Corinthians writes, when it asks:
Or do you not know that the saints will judge the world? If the world is judged by you, are you not competent to constitute the smallest law courts? Do you not know that we will judge angels? How much more matters of this life? (1 Corinthians 6:2–3)(NASB)
After this judgment, many other glorious events will happen, and Christians will take part to them together with the Lord Jesus in the Heavenly Kingdom for eternity.
Translated by Felicia Djugostran