In chapter 17 of 1 Samuel, it talks about David's battle with Goliath. Here's how the detail of the five stones are related:
Then Saul clothed David with his garments and put a bronze helmet on his head, and he clothed him with armor.  David girded his sword over his armor and tried to walk, for he had not tested them. So David said to Saul, "I cannot go with these, for I have not tested them." And David took them off. He took his stick in his hand and chose for himself five smooth stones from the brook, and put them in the shepherd's bag which he had, even in his pouch, and his sling was in his hand; and he approached the Philistine. (1 Samuel 17: 38-40) (NASB)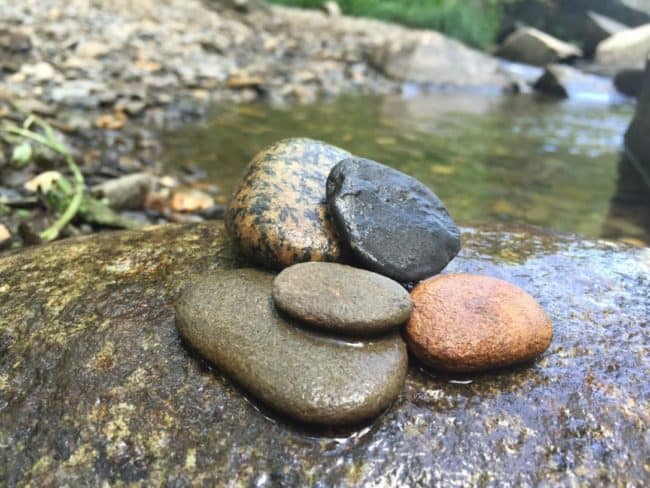 David chose to use the weapon which he managed well during the fight with Goliath, and that happened to be the sling. If you have not played in your childhood with the sling, I think you will have a harder time understanding why the need for the smooth stones and why did he need five of them. I played a lot with sling in my childhood and I quickly understood why David did so. Smooth stones fly lightly away and do not deviate from the trajectory. He took five stones because it was certain that five attempts would hit the target. David was a good fighter and he was a good man, but he was not overly self-confident, as some are. That's why he took five stones to have reserves and to have five attempts to hit the target. The fact that he put some of the stones in his shepherd's bag and others in the pocket of his coat again shows us his skills as a fighter, for he puts them in different places for different situations so that he can get to them as soon as possible during the battle time when every tenth of a second matters. The outcome of the fight shows us that David hit the target from the first shot with the sling.
This kind of thinking must always be in the work of God as the apostle Paul teaches and gives himself an example to follow:
That I may know Him and the power of His resurrection and the fellowship of His sufferings, being conformed to His death; in order that I may attain to the resurrection from the dead. Not that I have already obtained it or have already become perfect, but I press on so that I may lay hold of that for which also I was laid hold of by Christ Jesus. Brethren, I do not regard myself as having laid hold of it yet; but one thing I do: forgetting what lies behind and reaching forward to what lies ahead,  I press on toward the goal for the prize of the upward call of God in Christ Jesus.  Let us therefore, as many as are perfect, have this attitude; and if in anything you have a different attitude, God will reveal that also to you; (Philippians 3: 10-15) (NASB)
In the Epistle to the Romans, the Apostle Paul also wrote:
For through the grace given to me I say to everyone among you not to think more highly of himself than he ought to think; but to think so as to have sound judgment, as God has allotted to each a measure of faith. (Romans 12:3) (NASB)
Do not look for these five stones taken by David from the river as something symbolic or prophetic, for the Bible leaves no reason for it.
Always trust God, be courageous, and do not be afraid to go to battle and do whatever it takes to win the battle. The Lord will always give you victory, for He delights when he goes to battle for soldiers like David.
Translated by Didina Cravcenco