The following question was addressed by the wife of a Christian with a physical disability:
My husband has a physical disability from birth. He KNOWs THE WORD of the LORD VERY WELL. He is Preaching and singing in church and even helped to plant a church in the area, but brothers thought he was after THE PASTOR's position AND cut him out of all the activities in the church. They said a man with a defect must not be in front of people. is This statement true? PLEASE ANSWER ME. THANK YOU.
Thank God for your husband who has dedicated himself to the work of the Gospel and studies the Word of God and knows it and preaches it to others. This is what he should do further. The leaders who stopped him from this ministry probably came with the following argument from the Old Testament:
Now the king and his men went to Jerusalem against the Jebusites, the inhabitants of the land, and they said to David, "You shall not come in here, but the blind and lame will turn you away"; thinking, "David cannot enter here." Nevertheless, David captured the stronghold of Zion,that is the city of David. David said on that day, "Whoever would strike the Jebusites, let him reach the lame and the blind, who are hated by David's soul, through the water tunnel." Therefore they say, "The blind or the lame shall not come into the house." (2 Samuel 5:6-8)
Pay attention, David had a reason to order that concerning the blind and lame. He didn't have something against all the blind and all the lame or against people with disabilities. No way, because this is what Scripture tells us about David:
David said, "Is there yet anyone left of the house of Saul, that I may show him kindness for Jonathan's sake?" Now there was a servant of the house of Saul whose name was Ziba, and they called him to David; and the king said to him, "Are you Ziba?" And he said, "I am your servant." The king said, "Is there not yet anyone of the house of Saul to whom I may show the kindness of God?" And Ziba said to the king, "There is still a son of Jonathan who is crippled in both feet." So the king said to him, "Where is he?" And Ziba said to the king, "Behold, he is in the house of Machir the son of Ammiel in Lo-debar." Then King David sent and brought him from the house of Machir the son of Ammiel, from Lo-debar. Mephibosheth, the son of Jonathan the son of Saul, came to David and fell on his face and prostrated himself. And David said, "Mephibosheth." And he said, "Here is your servant!" David said to him, "Do not fear, for I will surely show kindness to you for the sake of your father Jonathan, and will restore to you all the land of your grandfather Saul; and you shall eat at my table regularly." Again he prostrated himself and said, "What is your servant, that you should regard a dead dog like me?"

Then the king called Saul's servant Ziba and said to him, "All that belonged to Saul and to all his house I have given to your master's grandson. You and your sons and your servants shall cultivate the land for him, and you shall bring in the produce so that your master's grandson may have food; nevertheless Mephibosheth your master's grandson shall eat at my table regularly." Now Ziba had fifteen sons and twenty servants. Then Ziba said to the king, "According to all that my lord the king commands his servant so your servant will do." So Mephibosheth ate at David's table as one of the king's sons. Mephibosheth had a young son whose name was Mica. And all who lived in the house of Ziba were servants to Mephibosheth. So Mephibosheth lived in Jerusalem, for he ate at the king's table regularly. Now he was lame in both feet. (2 Samuel 9:1-13)
So as you see, David dealt well with Mephibosheth, who had a physical disability. Not the handicap caused David to have this attitude toward those suffering because of it, but the attitude that they had toward God and toward David. I recommend you find the Bible Study called "Covenant" to study more about the covenant that was between David and Jonathan and from which Mephibosheth had benefited greatly. In that course you will study many profound things about The New Covenant of which we are beneficiaries as well.
Paul said he had something in his body that could be a stumbling block for people, but it did not prevent him from serving them. Here's what he wrote to the Galatians: 
and that which was a trial to you in my bodily condition you did not despise or loathe, but you received me as an angel of God, as Christ Jesus Himself. Where then is that sense of blessing you had? For I bear you witness that, if possible, you would have plucked out your eyes and given them to me. (Galatians 4:14-15)
Paul does not give us details about his handicap, but obviously it was something that could cause contempt or disgust and be a temptation for people who saw him and listened to him. We can assume that it was linked to his eye problems, for he immediately tells that the Galatians loved him so much that were ready to pluck out their eyes and give them to him.
I know a special worker in the Gospel who has a physical disability. His name is Sergiu Rutcovschi. I have known him since the beginning of his life with Christ. He was a student and came to a Bible study group I led at "Jesus the Savior" Church, in Chisinau. Being motivated by the Word of God that we studied, he decided to be a missionary in a village. He walked with difficulty, but would travel by bus for a long distance and then walk on foot. I even heard of a case when the children from the village came out and mocked him, calling him dirty words, throwing stones at him. This did not prevent him, and out of love for those people he went and preached Christ to them. Then God put on his heart to start a Mission to share the Gospel among people with disabilities in Moldova. Many people who suffer in their homes have come to know Christ through the activities organized by Sergiu and the team working in the mission.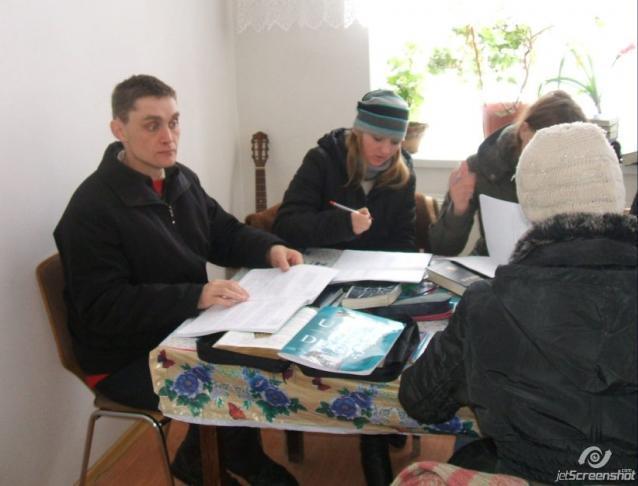 May God bless your husband to serve with all the power he has and not to be discouraged by people, but to work with all humbleness and obedience to those who are guiding him in the Gospel.
Read this article in Romanian and Russian