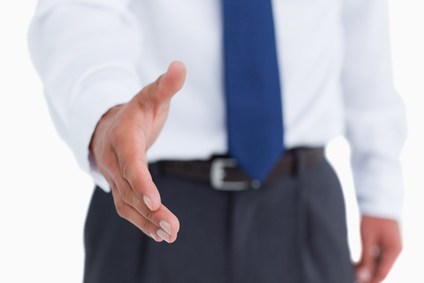 I have recently received this question and it will be answered based on an example from the Bible described in chapter 3 of the Gospel of John.
1.

Take initiative

Do not expect every time others to approach you when you want to meet them, even if they are in very high positions.If you want to know these people, approach them and talk with them as the Bible says that Nicodemus did:
Now there was a man of the Pharisees, named Nicodemus, a ruler of the Jews; this man came to Jesus by night and said to Him, "Rabbi, we know that You have come from God as a teacher; for no one can do these signs that You do unless God is with him." (John 3:1 -2)(NASB)
2.

Search the advantages of others

After Nicodemus complimented Jesus that He was a teacher who had come from God, the Savior took the attention from his own person and brought it to a great need that Nicodemus had and that only the Lord Jesus could solve it:
Jesus answered and said to him, "Truly, truly, I say to you, unless one is born again he cannot see the kingdom of God." (John 3:3)(NASB)
3.

Ask questions

Some people, when they meet someone and find out things they do not know, are intimidated and, not wanting to seem less educated, they do not further the discussion. Nicodemus wanted to know and, even if his question could seem childish for someone, he however, put it to Jesus.
Nicodemus said to Him, "How can a man be born when he is old? He cannot enter a second time into his mother's womb and be born, can he?" (John 3:4)(NASB)
4.

Answer questions

Neither the Lord Jesus despised Nicodemus for his question, but has explained that to understand.
Jesus answered, "Truly, truly, I say to you, unless one is born of water and the Spirit he cannot enter into the kingdom of God. That which is born of the flesh is flesh, and that which is born of the Spirit is spirit. Do not be amazed that I said to you, 'You must be born again.' The wind blows where it wishes and you hear the sound of it, but do not know where it comes from and where it is going; so is everyone who is born of the Spirit." (John 3:5-8)(NASB)
5.

Insist to understand

After the Lord Jesus answered the question, Nicodemus understood how important it was to be born again, but he did not know how that was possible. Therefore …
Nicodemus said to Him, "How can these things be?" (John 3:9)(NASB)
6.

Speak to be understood

The new birth was not an easy understandable subject to Nicodemus.Therefore, the Lord Jesus insisted on explaining and using all concepts and histories of the Old Testament known by Nicodemus, just that he might understand the message of Jesus:
Jesus answered and said to him, "Are you the teacher of Israel and do not understand these things? Truly, truly, I say to you, we speak of what we know and testify of what we have seen, and you do not accept our testimony. If I told you earthly things and you do not believe, how will you believe if I tell you heavenly things? No one has ascended into heaven, but He who descended from heaven: the Son of Man. As Moses lifted up the serpent in the wilderness, even so must the Son of Man be lifted up; so that whoever believes will in Him have eternal life. (John 3:10-15)(NASB)
7.

Tell the truth

Salvation of the soul is the greatest need of every man and the supreme good that you can do to others is to tell them how to be saved. Lord Jesus said this great and important truth to Nicodemus:
For God so loved the world, that He gave His only begotten Son, that whoever believes in Him shall not perish, but have eternal life. (John 3:16)(NASB)
The journal I use has a wise remark said by someone for each day and on the page for today it is written:
You can make more friends in two months by becoming interested in other people than you can in two years by trying to get other people interested in you. (Dale Carnegie)
How does the reader think it is important to behave when you meet new people?
Translated by Felicia Rotaru