In this article I will answer a question about the healing of God:
Why is the healing from God slow in coming? Why He does not respond to a person who is ill for a long time and is my friend? When that person was born she had major problems because all her internal organs were mixed together, she had a surgery a few days after birth and since then she is continuously ill. I said to her exactly as written in John 9 that God wants to show His works in her body and He knows better why this happens. But she still does not accept and requires a biblical response, why God can not cure the disease that she has?
1. To show the works of God
Let's look at the Gospel of John, chapter 9 once again, to understand the words of Jesus:
As He passed by, He saw a man blind from birth. And His disciples asked Him, "Rabbi, who sinned, this man or his parents, that he would be born blind?" Jesus answered, "It was neither that this man sinned, nor his parents; but it was so that the works of God might be displayed in him. (John 9:1-3)(NASB)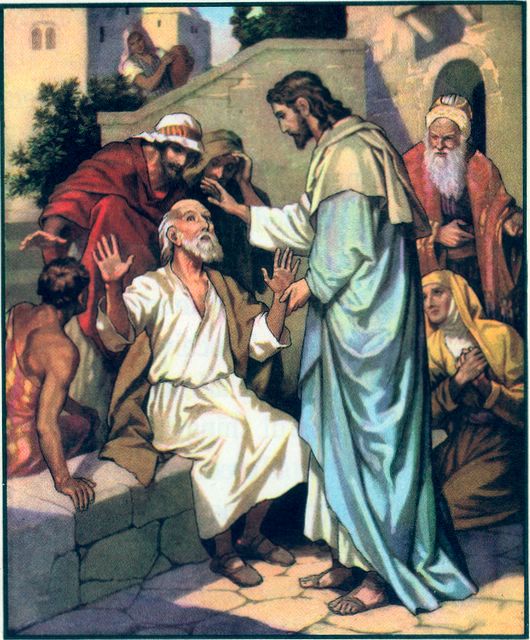 This man was blind from birth, so, he was born with this disease. The disciples knew that sin is the cause of illness and they also knew that you could be sick because of your own sin or the disease you had might be a consequence of the sins of your parents. Jesus says that to this man blind from birth does not apply any of these two cases, that means that sin is not the cause of the disease. Jesus does not mean that this mans blind from birth does not have sin or that his parents had no sin. The Bible teaches that all people have sinned and come short of the glory of God. All that Jesus wants to say is that sin is not the cause why that man was born blind but it was another cause – to show the works of God in him. Right in that place, the Scripture tells us that Jesus …
When He had said this, He spat on the ground, and made clay of the spittle, and applied the clay to his eyes, and said to him, "Go, wash in the pool of Siloam" (which is translated, Sent) So he went away and washed, and came back seeing. (John 9:6-7)(NASB)
Thus, by healing that man the power and glory of God were displayed. The Scripture does not tell us his age but we realize that he was an adult and had been suffering for a long time because of his illness.
We can not know God's plan for healing the person about whom you've written and we can not know any causes of her illness, but if it is also for showing God's work, perhaps the time has not yet come that these works might be displayed.
2. Because the sins have not been confessed
In the Epistle of James it is written:
Is anyone among you sick? Then he must call for the elders of the church and they are to pray over him, anointing him with oil in the name of the Lord; and the prayer offered in faith will restore the one who is sick, and the Lord will raise him up, and if he has committed sins, they will be forgiven him. Therefore, confess your sins to one another, and pray for one another so that you may be healed. The effective prayer of a righteous man can accomplish much. (James 5:14-16)(NASB)
If the sick person thinks that her personal sin is the cause of her illness and God shows her specific sins through the Holy Spirit, she should follow the counsel of Scripture and firstly confess her sins. This means that she must admit before God and before people against whom she has sinned and definitely stop that or those sins and not to repeat them anymore in her life. This is the confession of sins. Then, in faith, let her pray and ask healing from God and call for the elders of the church to pray for her after anointing her with oil.
3.  Because the faith lacks in the prayer
We have seen in the passage quoted above that a condition for healing and generally, that our prayers might be heard, we should pray with faith, have faith. It is also written in the Epistle of James that:
But if any of you lacks wisdom, let him ask of God, who gives to all generously and without reproach, and it will be given to him. But he must ask in faith without any doubting, for the one who doubts is like the surf of the sea, driven and tossed by the wind. For that man ought not to expect that he will receive anything from the Lord, being a double-minded man, unstable in all his ways. (James 1:5-8)(NASB)
Even if he says this that wisdom must be asked in faith, we are told a truth that applies to prayers for any other needs, including for healing. You must ask in faith and do not doubt at all, because he who doubts is like a sea surf, driven and tossed by the wind, and God does not answer such prayers because they are based more on doubt than on faith.
4. For God's power manifestation
The Apostle Paul wrote about himself that God put a thorn in his flesh and does not specify what it was, but since he said that thorn was put in the "flesh", many researchers of the Bible believe that he refers to a disease that he had and it could have been an eye disease, because in  the Epistle to Galatians, he speaks about the love the Christians from churches of Galatia showed to him when he wrote:
Where then is that sense of blessing you had? For I bear you witness that, if possible, you would have plucked out your eyes and given them to me. (Galatians 4:15)
Here's what Paul wrote in his Second Epistle to Corinthians about the thorn which he had in his flesh and that could have been a disease, but even if it was not a disease, the spiritual principle in this passage is applicable about diseases, too:
Because of the surpassing greatness of the revelations, for this reason, to keep me from exalting myself, there was given me athorn in the flesh, a messenger of Satan to torment me–to keep me from exalting myself! Concerning this I implored the Lord three times that it might leave me. And He has said to me, "My grace is sufficient for you, for power is perfected in weakness" Most gladly, therefore, I will rather boast about my weaknesses, so that the power of Christ may dwell in me. (2 Corinthians 12:7-9)(NASB)
So, the purpose of this thorn, as the Apostle speaks figuratively, was to protect him from pride and vanity and the power of God might be perfected in his weakness. Paul said he implored the Lord three times that it might leave him, but he received an answer not to look at his weaknesses, but at the grace of God that is in him, through which the power of Christ works.
Any Christian suffering from a disease will receive deliverance when he starts looking at the grace of God that is in him and allows this great power of God to work.
I, who write this article, suffer from many diseases. About 10 years ago I was in a mission in a faraway country and I got salmonella and hepatitis C at the same time and since then, I have a constant pain to the left, and the doctors could not identify its cause up to these days. Then I had a complicated surgery on my back and now the pain even worsened, so I have to wake up every 15-20 minutes and do a little exercise and then sit down to end this article. But I chose not to look at the diseases that my body is affected of, but at the grace of God that is in me and the power of Christ that I want to be shown to proclaim His Gospel, so that many might be saved.
Moreover, Timothy, Paul's beloved disciple, he also suffered from a chronic illness and we find this from the exhortation that the Apostle gave him when he wrote:
No longer drink water exclusively, but use a little wine for the sake of your stomach and your frequent ailments.(1 Timothy 5:23)(NASB)
Someone will say: How? The Apostle Paul, who healed so many people miraculously, could he not heal Timothy, his beloved son in faith? No, he could not … Because as the power of God was shown by the healings made by Paul, the power of God was also shown by Timothy weaknesses, who was a very dedicated and tireless servant of the Gospel, regardless the diseases that made him suffer.
A major deliverance will receive any Christian who, being ill, will realize this great truth and let God manifest His power in his or her weakness and disease.
5. To build the character
There is one more reason why the healing from God is slow in coming, or that it may never come and this is recounted in the book of James, which I quoted often in this article:
Consider it all joy, my brethren, when you encounter various trials, knowing that the testing of your faith produces endurance. And let endurance have its perfect result, so that you may beperfect and complete, lacking in nothing. (James 1:2-4)(NASB)
The disease is suffering and that is a sort of wide spectrum of various trials. God teaches us in Scripture to consider it all joy when we encounter various trials, and illness, too, because these trials produce endurance, that means they grow the quality of our characters, because they make us perfect, whole and lacking nothing.
Examine yourself in the light of these truths and see which of these causes is right for your situation. Do you see why healing is slow in coming into your life? Do you have a Christian attitude in your disease?  Maybe you suffer more because of the bad attitudes than because of the physical illness? If so, change your attitude and repent, so that you can enjoy God's grace and let the mighty power of Christ take place in you and through you in the lives of other people, so that they might be saved.
Translated by Felicia Rotaru