Question:
Why did GOD allow the Jews to kill Stephen by stoning so early before he could continue with Jesus's work?
There's one very important truth written in the Bible that we need to be aware of and which will give us peace, fulfillment and will take away any fear.
1.     God established the length of our lives
In the book of Psalms it is written:
Your eyes have seen my unformed substance; and in Your book were all written the days that were ordained for me, When as yet there was not one of them.  (Psalm 139:16)
Before we were born and before we were even conceived, God had ordained the length of our lives. We are not going to live a day more or less. Along with the length of our lives, God had also prepared the works, a mission for each one of us on Earth. St Stephen, the first martyr recorded in the 7th chapter of the book of Acts lived exactly the days that God has prepared for him and died with a glorious Christian death.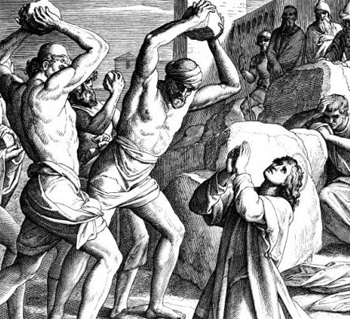 It is very important that we think well about the calling that we received from God, and as He teaches us, we should redeem the time so that we could say the same as Apostle Paul, who wrote the following to Timothy before he was martyred:
For I am already being poured out as a drink offering, and the time of my departure has come. I have fought the good fight, I have finished the course, I have kept the faith;  in the future there is laid up for me the crown of righteousness, which the Lord, the righteous Judge, will award to me on that day; and not only to me, but also to all who have loved His appearing. (2 Timothy 4:6-8)
2.     It is an honor for a Christian to be martyred
In his epistle to Philippi apostle Paul wrote about the purpose and the passion of his life:
That I may know Him and the power of His resurrection and the fellowship of His sufferings, being conformed to His death; in order that I may attain to the resurrection from the dead. (Philippians 3:10-11)
The apostle wanted to conform to the death of Jesus Christ and with this to become a part of the suffering of Jesus Christ. In the following verses he says that he wants all of his disciples to be inspired by this thought. St Stephen was the first one to receive this honor.
When the father of Origene, the great theologian of the III century, was arrested and condemned to death because he was Christian, Origene, his son, thoroughly pursued to follow his steps. At that time he was only 17 years old. His decision was very firm. He wanted to be martyred as well. His mom bagged him a lot of times not to surrender himself to the authorities, but he did not want to listen. To stop him, his mom did everything she could: even hid his clothes. Although Origene protested and looked everywhere to find his clothes, his mom did not show him where she's hidden them. The life of Origene was written by Eusebius of Caesarea in his well know work "The history of the Church" which I recommend to everyone.
The number of murdered Christians every year is so great, that every five minutes one dies as a martyr and every year, because of their faith, more than 105,000 Christians around the world die. From St Stephen until today there were more than 70 million Christians martyred, 45.5 million of which (more than 65%) were martyred in the 20th Century.
3.     The martyring brings glory to Christ
In his epistle to Philippians, Apostle Paul told the recipients that he was waiting to be martyred and he wrote these words about his life and death:
According to my earnest expectation and hope, that I will not be put to shame in anything, but that with all boldness, Christ will even now, as always, be exalted in my body, whether by life or by death.  For to me, to live is Christ and to die is gain. But if I am to live on in the flesh, this will mean fruitful labor for me; and I do not know which to choose. But I am hard-pressed from both directions, having the desire to depart and be with Christ, for that is very much better; yet to remain on in the flesh is more necessary for your sake. (Philippians 1:20-24)
Even the death of Stephen brought much glory to Christ in front of all those who stoned him and those who were spectators.
4.     Many people came to Christ through the suffering of the martyrs
When huge persecutions against Christians were unleashed in the 2nd century, the great apologist Tertullian told the authorities and the pagans: "We are becoming even more numerous every time we are cut down (killed) by you; the seed being the blood of the Christians".  I recommend in this regard reading Petru Popovici's book "The voices of the martyrs from the first centuries".
When Stephen was martyred, his false witnesses who stoned him laid aside their robes at the feet of a young man named Saul. This young man was yet to repent and become the great apostle Paul.
The 40 martyrs of Sebaste were 40 roman soldiers who chose to die for Christ. The authorities asked them to deny their faith in Jesus Christ and at first they put them outside on a cold winter night in the waters of a lake from Armenia which started to freeze. One of them could not resist and came out of the water. As soon as he came out of the water 40 crowns descended from heaven and laid down one on each of the martyr's head who were suffering in the ice cold water. One of the crowns wasn't able to find its martyr. Then, one of the pagan soldiers who were watching from the shore left his place and jumped into the water to receive that crown. For him repentance and the martyring happened at the same time.
What about us?
Are we living our lives to the highest standard that God has called us? Are we redeeming the time so that when we stand before death to say that we have finished the race? How are we accomplishing the Christian work God has entrusted us with? Do we understand what it means to be partakers of the sufferings of Jesus Christ and what it means to conform ourselves to His death? Are we ready to be martyred?   
Translated by Slavic Crilov