That is how in vitro fertilization is characterized, because the rate of getting pregnant is only 25 percent. It is a real drama when you are one of those who think that this method is against God and His plan to create children; and then, you ask the question, how many children are killed for one to live? Obviously you will tell me that they are a happy family that finally can have a child after using this method of conception. But let's not forget how many mistakes have been made to get you pregnant. And then, I said that only 25 percent of women who resort to such methods of having children become pregnant. The question is what about the 75 percent of the women?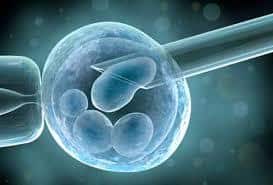 Now, the Republic of Moldova is among the countries that will methodically kill children. In addition to encouraging abortion, killing hundreds of thousands of children annually, in vitro fertilization will now be added to these crimes. Another study made by an in vitro fertilizer promoter Andre van Steirtehgem acknowledged that children conceived in vitro will have high fertility problems; but I do not know how much of this is talked about…
May God have mercy on our country, and give the authorities a lot of discernment to distinguish the evil from good, and the, apparently good intentions they have, to use to encourage God's plan to have children and not the human plan. We see that, many times, the human plan is flawed and bears negative consequences for the whole country.
Translated by Elizaveta Bîrlădeanu