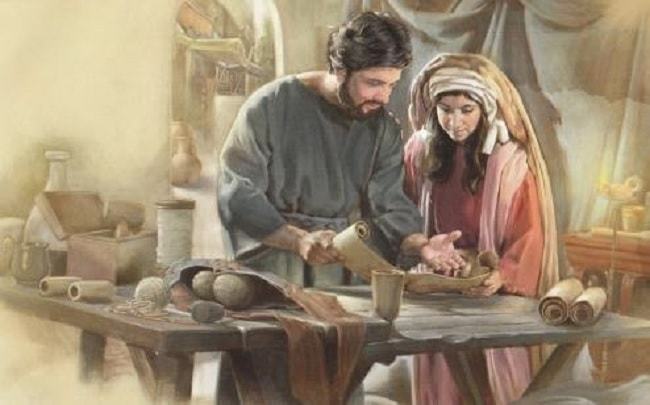 In our world there is a need of model couples living beautifully in their marriage. We find written in the New Testament about a couple – Aquila and Priscilla that have left the following seven very beautiful and worthy lessons to be learned and followed by every Christian couple.
1.

Priscilla and Aquila have overcome hardships together

The first time they are mentioned in the Bible, we learn the following about this wonderful couple:
After these things he (Paul) left Athens and went to Corinth. And he found a Jew named Aquila, a native of Pontus, having recently come from Italy with his wife Priscilla, because Claudius had commanded all the Jews to leave Rome. He came to them, and because he was of the same trade, he stayed with them and they were working, for by trade they were tent-makers. (Acts 18:1-3)(NASB)
It is not easy to change your place of residence, especially when you are forced. Today, material needs make men send their wife to an end of the earth and the man himself goes to the other end. Unfortunately, it has become a model for some and often, people who are not lacking send their wives to work in other countries and agree to be separated for long periods, just for material gain. Even sadder it is to see that some Christians have started to rush for gaining wealth and sacrificed their relationship and their marriage.
2.

Aquila and Priscilla worked together

The Bible tells us that they had the same job as Paul had, that was making tents. In the end of the Epistle to Romans, in conclusion, the Apostle Paul wrote about them:
Greet Prisca and Aquila, my fellow workers in Christ Jesus. (Romans 16:3)(NASB)
While overcoming material difficulties, but also working for Christ, this wonderful couple knew to work together always.
3. Priscilla and Aquila kept their house open
When someone has an open heart, his home will always have room for others. But if one spouse does not welcome guests, nor the other can welcome others. Priscilla and Aquila were welcoming the guests. Although they were recently arrived in Corinth, when they saw Paul, they received him into their home to stay. Then, when they were at Ephesus the following happened:
Now a Jew named Apollos, an Alexandrian by birth, an eloquent man, came to Ephesus; and he was mighty in the Scriptures. This man had been instructed in the way of the Lord; and being fervent in spirit, he was speaking and teaching accurately the things concerning Jesus, being acquainted only with the baptism of John; and he began to speak out boldly in the synagogue. But when Priscilla and Aquila heard him, they took him aside and explained to him the way of God more accurately. (Acts 18:24-26)(NASB)
Their home was open for Apollos and in the first Epistle to Corinthians, Paul wrote in conclusion:
The churches of Asia greet you Aquila and Prisca greet you heartily in the Lord, with the church that is in their house. (1 Corinthians 16:19)(NASB)
Because they lived in Rome, then in Corinth, and later in Ephesus, they had to change their residence frequently. But, in any place, their house was open for people and God's work.
4.

Aquila and Priscilla were a missionary couple

If they were driven away by Claudius together with all other Jews from Rome, then from Corinth they left for Ephesus joining Paul and stayed there to preach the Way of the Lord and to plant a church.
Paul, having remained many days longer, took leave of the brethren and put out to sea for Syria, and with him were Priscilla and Aquila. In Cenchrea he had his hair cut, for he was keeping a vow. They came to Ephesus, and he left them there Now he himself entered the synagogue and reasoned with the Jews. (Acts 18:18-19)(NASB)
At the time when Paul wrote the first epistle to Corinthians, the church has been already gathered in Priscilla and Aquila's house. It is sad to see how some people are willing for Christian mission, but after they married, they become too comfortable as to leave somewhere.
5.Aquila and Priscilla taught people the Gospel
After they had listened to Apollos in the synagogue from Ephesus, Priscilla and Aquila invited him to their home and had shown him the Way of God more accurately. Not traditions, not customs, not human opinions, not doctrines of one or another church, but they have shown him the way of the Lord more accurately.
6.

 Priscilla and Aquila risked their lives for others

This is how Paul writes about it in Romans:
Greet Prisca and Aquila, my fellow workers in Christ Jesus, who for my life risked their own necks, to whom not only do I give thanks, but also all the churches of the Gentiles; also greet the church that is in their house Greet Epaenetus, my beloved, who is the first convert to Christ from Asia. (Romans 16:3-5)(NASB)
7.

Aquila and Priscilla showed mutual respect

They did not have problems like who is or is not first, because they treated with mutual respect. Neither Paul nor Luke make any distinguish in their writings between these two, showing that both the husband and the wife have worked with all dedication in close cooperation. One time they say "Aquila and Priscilla" and another time "Priscilla and Aquila. None of them rejected the other, but worked in the most beautiful and fruitful collaboration.

So God help us all behave in our marriage for the cause of the Gospel.

Translated by Felicia Rotaru