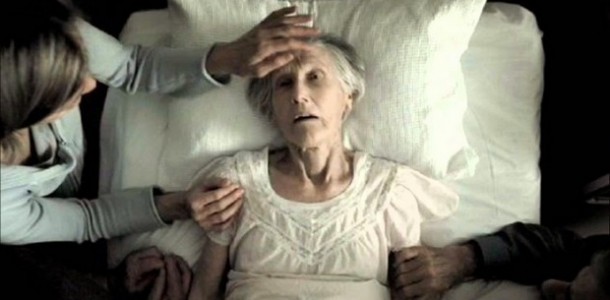 All of us wish to have our parents for the rest of life. But it is absolutely normal for the parents to die before their children. My mother died when I was 9 years old. My father died when I was 17 years old. Recently I have had the occasion to observe how someone lied in bed before death and how inadequately the children of that person behave. As a conclusion of my observation, I would like to present some advice for those, whose parents are alive so that they will know how to behave wisely and justly when their parents draw their last breath.
1. Offer your time to your parents
I don't know how it happens, but children are used to become so busy, so that they don't have time for their parents. They get used to this, don't go to visit them, even then, when their parents draw their last breath, they don't discontinue their work and don't find time to spend with their parents. What is the meaning of all these things? If you don't have time for your parents, it means that you don't value them and it is a shameful thing in their direction. One of those 10 commandments says:
Honor your father and your mother, that your days may be prolonged in the land which the Lord your God gives you. (Exodus 20:12)(NASB)
When Apostle Paul refered to this commandment, he added:
Honor your father and mother (which is the first commandment with a promise), so that it may be well with you, and that you may live long on the earth. (Ephesians 6:2–3)(NASB)
Put aside other things and give your full attention to your parents so that you may not have remorses and take care not to have a time when you will draw your last breath, to see how your children are too busy in order to come and see you or spend time with you. They will not leave you… They will send you money, products, clothes, etc. But they will not be near you to close your eyes when you leave this world.
2. Keep talking with your parents and show your gratitude for what you awe to them
When one draws his last breath, he reviews his life. He sees his achievements and failures. The way you behave with your parent can make him believe that he has had success growing you up or that he has failed and can die having bitterness in his heart. Your manifested gratitude will make your mother or your father feel fulfilled for their lived life and go to eternity being thankful for what he/she has accomplished. Apostle Paul, when he was in prison and knew that the time of his death was close, had this fulfillment of a life lived to the full. He said:
For I am already being poured out as a drink offering, and the time of my departure has come. I have fought the good fight, I have finished the course, I have kept the faith; in the future there is laid up for me the crown of righteousness, which the Lord, the righteous Judge, will award to me on that day; and not only to me, but also to all who have loved His appearing. (2 Timothy 4:6–8)(NASB)
3. Take care to be always near your parent
People have different beliefs, but most people from our nation are Orthodox Christians and give a great importance to the fact of having the light of the candle when he draws his last breath. I will come up with another article to explain the meaning of this custom. Take care to be always near your parent, to have the candle prepared beforehand, but not so that he may see it or know this, because this may suggest him the thought that he is close to death, i.e. closer that he knows or thinks, or that it is in reality. If you really need to go somewhere for a short period, take care to remain someone whom you trust and that is close to your parent and to stay near him to watch over him. Take care to be a person who can talk nicely and not one who knows to slow down his mood. The Holy Scriptures says:
The heart of the wise instructs his mouth and adds persuasiveness to his lips. Pleasant words are a honeycomb, sweet to the soul and healing to the bones. (Proverbs 16:23–24)(NASB)
If you see that your parent's situation is grave, don't go anywhere. It is very important for you to be the one who is near your parent in the time of death.
4. Tell your relatives about the situation of your parent
People, being in a rush, don't realize and don't estimate according to the reality when one is ill or close to death. That's why, it is good to tell your relatives by phone, or using other methods, about your parent's situation. This will motivate them to visit your parent and in this way, you will make him feel good beacuse he has seen all of them and could talk to them before death. And it is very painful when close and dear people don't come to someone who is close to death. Apostle Paul had a similar to this situation before his execution in the prison from Rome. He wrote to his disciple, Timothy:
At my first defense no one supported me, but all deserted me; may it not be counted against them. But the Lord stood with me and strengthened me, so that through me the proclamation might be fully accomplished, and that all the Gentiles might hear (2 Timothy 4:16–17)(NASB)
5. Don't cherish illusions towards the time of your parent's death
Don't think that it will pass much time until death comes, in order to leave for a place and let your parent without supervision. I know someone who was visited on Sunday and it seems that all was good, and on Sunday he/she passed away. Don't cherish your illusions because the Word of God says:
Yet you do not know what your life will be like tomorrow. You are just a vapor that appears for a little while and then vanishes away. (James 4:14)(NASB)
6. Make your utmost to make longer the days of your parent's life
God says in the Holy Scriptures that He has decided the days and the years of each man's life and this applies to your parents too. While they are alive, it is your duty to make your utmost to protect their life and health. Do your best to go with them to the hospitals, take care  of them when they are ill, so that they may rejoice of the days that God decided for them to live on this earth and of your care.
7. Respect your parents' faith, beliefs and wishes
It may happen to you not to share the same religious concepts or beliefs that your parents have. Don't try to impose these to them and especially, to make contrary their wish in regards to the way they want to be burried, etc. Respecting their beliefs, you will show respect and honor to your parents. God is the One who respects each man's liberty because He doesn't force anyone to act in a way or other. Nevertheless, each man is responsible for the choises he makes and will bear the consequences if these choises are wrong. The consequences don't limit to this life only but also to that after death. Be attentive and wise what choises you have made towards your faith and relationship with God.
8. Be ready to speak at your parent's burial
I was at a burial where there wasn't anyone to mourn and then a old woman came out and tried to do it for others. Mourning is a song of sorrow through which the dear ones show their gratitude for the one who has passed away. Today there are few women who can mourn and this is because they don't pay much attention to this thing. When the parent draws his last breath, you have to preapre your mourning and if you can not mourn, then you have to ready to say your gratitude in the day of burial, in front of all people. This is a tribute that you have to pay. Don't be in debt to your parent who passed away. Don't let to create your mourning or gratitude message in those 2 or 3 days until the burial is. Then you will have a lot of work to do and you will have such a heavy heart, that you will not be able to face this important need.
Value your parents! If they are healthy, go to them today and rejoice of the possibility and time that God gives you to be wtih them. If they are ill, go and help them. Bring them to hospital and make your utmost to honor them with all your love, as God teaches you to do. Be a blessed son or daughter for you father and mother!
Translated by Djugostran Felicia