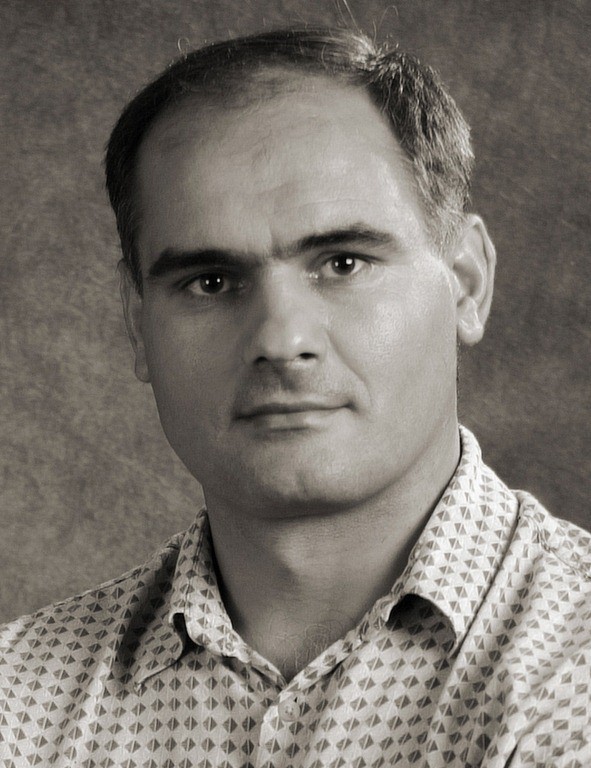 I was born on September 28th, 1971 in the village of Lapushna, Hinceshti district (at that time it was called Kotovskii). My parents were Christians of orthodox belief. My mother often used to go to the church and was seeking to have a nice relationship with God, but she has never been taught from the Holy Scriptures and could not realize this relationship, because she was not born again. My father used to go very rarely to the church, I think that just once per year, at least that's what I remember. He was an abusive man, and with much regret I say it, but the dream of my childhood was that my father would die someday. I thought then that would be the happiest day, when we'll remain only with mom, who always showed big affection towards us. My mother suffered so much because of my father and so did we. In our house there were drops or even spots of blood on the walls very often and that's not because of my mom that she was not a good housewife but because of my dad who made the blood to be fresh on the walls. All of us knew when dad comes home drunk by the way the latch of the gates sounded. When he came drunk we all crouched behind the fireplace, waiting for him to come and take us out and then to start horrible beatings.
Parents taught me "The Lord's Prayer" and every evening put me to pray at the icon before going to bed. I did so, but not every evening. Once, when dad came home late in the night he woke me up. He put me to knee on my bed in front of the icon and to pray with the prayer I was taught. Because I was waken up, but more because I was really scared, during the prayer I made a mistake. I was hit so hard that I flew off the bed and he continued to hit me with his legs for a long time, until when, in my despair, as a scared animal, I clenched to his leg asking him to kill me, because I could not resist the beating any more. This was another lesson of religion quite "convincing" which made me later easily believe the atheist lies taught in school.
I also remember as I have once found a plastic cross in the house on which was encrusted the image of Jesus Christ crucified. I asked my relatives who is that man on the cross and why His hands are nailed. I was told that it's Jesus Christ, but nobody was able to explain me anything about His death, because none of them were taught these things from the Scriptures.
When I was 9, our mom, who was 39 years old, after many torments and abuses she suffered, she got ill and after a very short time she died. I wrote a detailed article about the death of my mother, but in the future I intend to publish a book in which I want to relate the history of our family.
After we buried our mother, the same day, in the evening, my father told my sister Lidia, which was only 17 at that time, that she cannot get married before him. He was about to get married soon. After several days, things went so far that we, all the kids, got to stay in the street and this was another difficult period of our life. Our sister Lidia, which was only 17, had to assume herself the role of father, mother, sister and to fight for our future very hard. I was totally disappointed and when at school we were taught atheism I believed with all of my heart. I used to tell myself: "If God existed, He would not let my mom die, but would make justice and my father would die instead". Realizing how difficult is our situation and that I am the only man in the family, I put all the effort to study well at school. I graduated with medal.
From the day of my mother's death a great hatred for my father began to grow in my heart. I assumed the responsibility before my mother, my sisters and my destroyed childhood to kill my father. I have contemplated this plan all the years of my childhood and adolescence. When I was almost to accomplish my plan which was beyond harm, certain situations intervened in my life and my father's, that I retracted from this evil plan. This is a special situation I want to write about in the future. I was not a Christian, and I am very grateful to God for not letting me do such a great crime.
After finishing the High School, I went to study at the State University of Moldova where I graduated the History Faculty. At the same time I started to teach Taekwon-Do, which was forbidden then. At the University, when we were studying the History of the Ancient World, at one of the lessons, Professor Vladimir Potlog asked: "Who among you has read the Bible?" We started laughing and wondering about the question, because we all thought about the Bible that it is a book for old and ignorant people, as we were taught by the system we grew up in. He told us that the Bible is one of the main documents in the History of the Ancient World, that it has greatly influenced the history of mankind and that we can not be good specialists in history if we do not know the Bible. I was very curious and right after the lesson I went to the university library to take the Bible. They told me they had only a few copies and cannot be taken at home. I went then to the National Library, which at that time was called "Nadejda Krupskaia" and I received the same answer. I went to different churches, but I could not find a Bible in order to buy it. Eventually I got it through black market relationships. I spent a student's scholarship for a month in order to buy the Bible.
I started reading the Bible and at first I thought it's fairy tales. Little by little, I began to realize that the Bible is very different from other books and at one point I got to the thought that I no longer question the existence of God, although in the Bible He is not trying to convince us and argue the reality of His existence.
Meanwhile, the Soviet Union disintegrated. The country was chaotic. The athletes began to deal with robberies, and we, those from the Taekwon-Do group led by Ion Cheptene, did not remain out of this phenomenon, too. As we continued reading the Bible, we were going to "solve" other people's conflicts for money. The coach went to Moscow for a one-year seminar. I remained in Chisinau to lead the trainings and also the group which we called "special". One day, I received a phone call from Moscow, and Ion urged me to come along with another friend of mine and even paid us the flight ticket.
In Moscow I was very amazed when I saw what transformation took place in the life and heart of Ion. He had received the Lord Jesus in his soul and this was seen in all aspects. I had read the Bible for a long time, and I had been more informed than he was. I had even tried to live a Christian life, but each time I failed in my efforts. Ion told me about the new birth. Because I saw the effect of this new birth in his life, after three days, I prayed to God wholeheartedly, I asked for forgiveness for my sins and asked to be born again and to receive the Holy Spirit. Thus I have made a covenant with God and by faith in the Son of Jesus Christ, my life has been radically transformed. Until now, my wife Anastasia says she has never seen such a dramatic change in a man's life as she had seen in mine. This was the work of God and of the Holy Spirit in me.
Immediately after repentance, I bought an encyclopedia from a Christian shop in Moscow. During the next two or three weeks I read the entire Bible again. I was very, very hungry and eager to know more about God. I searched for a church where the Word of God was preached and I wanted to find out more from  the Scriptures. Because I read the whole Bible, other Christians recommended me to read books about the Bible, commentaries, etc. But they did not give me the satisfaction my soul demanded. I felt that there are treasures for my soul in the Bible, but I do not have access to them because I do not know how to study the Bible.
On the day of my baptism, the deacon of the church, Paul Gheorghieş, invited us with my wife and child to go to their house and they organized us a beautiful celebration. When he opened the closet to take something, a blue book fell out "How to study the Bible?" by Kay Arthur. I jumped out of the chair, took the book and asked how much it costs, because I wanted to buy it. I needed so much  such a book. Paul gladly gave me the book. He also gave me the inductive bible study course "Lord, I want to know You". The latter is designed to be studied in 42 days, but it took me 2 days and 2 nights to study it entirely. I was very much impressed by everything I learned from the Scriptures because the course was not a commentary, but a guide that leads and helps you to study and to understand the Bible. I found out things that were so necessary to me at that stage in my life and that strengthened me very much in faith. On the third day I called Paul and I asked him to give me other such books. He gave me the inductive course for the Gospel of John. In summer he invited me to Romania to a conference. At that conference I met for the first time sister Mia and brother Costel Oglice, exceptional teachers of the Bible. They became my teachers, mentors and spiritual parents. All these years I learned from them and I still learn. Their life is an adornment to the teaching they have given me and they continue to give it to me and to all their disciples from over 70 countries of Eurasia. After studying at the first conference the book Malachi, Mia and Costel Oglice proposed to me to stay and so I participated at several other conferences held in different cities of Romania. I studied the Scriptures with them deeply. When I returned home I continued to study individually. Until the following summer I managed to observe inductively all the books of the New Testament, because I learned very good how to observe inductively the text and to do the overview. This gave me a very good spiritual growth at that time of my life.
At that time, being a Taekwon-Do coach at the University of Medicine, I was encouraged to start a Bible study group with my students. Previously, I used to ask them to stay after the trainings about 15 minutes to tell them something from the Scriptures, but there were only a few girls who accepted and even those girls accepted it having mercy for my efforts. When I brought the manual "Lord, I want to know You" and gave it to them, the first time we began we studied for more than two hours. The guardian had to ask us to go home so that he may close the room. The girls asked me to continue studying the next time, but to study the course two hours before the training at their student's dorm. The other disciples also came and many of their friends invited by them, interested to know the Word of God. They were so many that we did not fit in the room and they stood in the corridor also, leaning against the walls. At the fifth lesson the first three of them made a covenant with Jesus Christ. This was the transformation brought by the Word of God.
After graduating from the University, I went to teach the Bible applying the inductive method and materials. At one point I had 17 groups in 10 schools. I am very pleased to see those students now being active and very involved in the Gospel as pastors, missionaries, Bible teachers and preachers.
In 1997, under the leadership of my teachers Mia and Costel Oglice, I founded in Moldova the first branch of the Eurasia Inductive Bible Study Institute. At the Institute in our country more than 1600 teachers and leaders were equipped spiritually. They teach yearly to thousands of people the Word of God, organize camps, teach bible study in public schools, orphanages, prisons, student dorms, etc.
In the same year, in1997, we founded the Taekwon-Do club "Stolas Leukas". Through its ministry a lot of young people came to know Christ, learned and continue to learn the Word of God. More than 50 of them became missionaries and are doing mission through sport in our country. Our Taekwon-Do club has expanded and we have instructors doing the same work in Afghanistan, Pakistan, Armenia, the United Arab Emirates, the US and other countries.
In 2000, together with a group of teachers and students that knew english very well, we founded the school named "English for a New Life". We composed a grammar manual with the same title as the school, which is entirely based on the Gospel of John. The school has expanded in different other countries as well: Ukraine, Romania, Russia, Uzbekistan, Tajikistan, Afghanistan, Nepal, Pakistan and other countries.
In 2004, within the same association, we founded the Computer School "ScripTehInfo", in order to help people learn how to work efficiently on the computer. All the examples of over 20 courses of the school are based on biblical texts.
The desire of my heart is for Moldova to become a country where the Word of God dwells richly in people's heart and it will bring happiness, beautiful relationships, strong families, prosperity, and most importantly – salvation for all people. My heart aches when I see young people leave the country in their despair. I dream of the day when from the country Gospel workers will go to bring the message of Christ's salvation to the ends of the earth. Then, we would live in a blessed country and would support the global Christian mission. May God help us in this!
In the beginning of 2007, understanding the great potential of the media in modern society and the need for Christians to be involved in this area, I encouraged a group of young people to create a team of Christian journalists, and thus to bring to the people from our country, the Gospel message, from the point of view of the realities we face. So, many of those young people went to the Journalism faculty and we founded the weekly publication "The Newspaper FREEDOM", that is now called "CHRISTIAN MOLDOVA Newspaper".
During 2004-2008 years, I served as a pastor for mission, evangelism and discipleship at the "Holy Trinity" Church in Chisinau. Now, I serve as a pastor at the "Good News" Church, in Chisinau, which I planted in the beginning of 2009, in a sector with the highest concentration of medical institutions in the country. There is a huge flow of people that are seeking healing in that area. The desire of my heart is to bring spiritual healing to all those that we bring the message of Gospel daily. The church services are held every Sunday at 14.00, in the "Grace" church (Ciocarlia street 2/8). We also have a Bible study meeting every Thursday at 18.30, and the youth meeting every Tuesday at 18.00.
In the summer of 2012, we launched the International School of Sport Instructors, where young people from 22 countries are prepared to do mission as Taekwon-Do, Fitness or Soccer Instructors.
In the summer of 2013, we launched the International Media School where Christians from different countries are prepared to preach and spread the message of Gospel through the media.
I thank God for my wife Anastasia and for the three children that He gave us to raise them. I am ready to serve people preaching, teaching Bible study courses using the inductive method, teaching sessions within the Inductive Bible Study Institute in Eurasia, training seminars for the sport ministry, computer, english, journalism ministries and others.
If I can be useful to you by preaching and teaching the Word of God in seminars, conferences or camps, contact me by email. May God bless you!